AMPLIFON RECORDS GRADUATE PROGRAM

Amplifon Records Graduate Program is a great opportunity for talented individuals who are looking for an ambitious international challenge! Start your 18-month journey amongst one of our business units such as Marketing, Retail Excellence, HR, Finance, IT, Supply Chain.

Your path starts at Milan global HQ and will lead you to one of our 26 countries to learn more about the local market and culture. Your impact does not end here. Design and bring to life a Corporate Social Responsibility project to empower people to rediscover all the emotions of sound. Become the headliner of your professional future!

TUNE INTO THE PROGRAM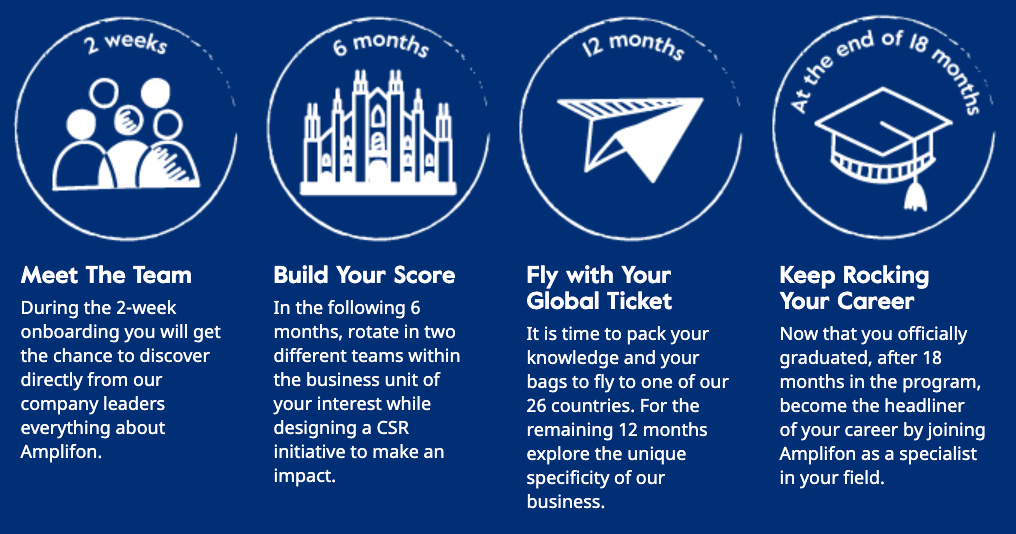 THE STAGE IS YOURS

The Auditions
After the application and the successful CV screening, pass our online logical and numerical test and get ready to be contacted by one of our recruiters.

Boot Camp
Only selected candidates will have the chance to join the group assessment and have a one-on-one interview with Amplifon's leaders.

Live Show
Seal the deal and start your journey at Amplifon. Now it's time to pack your things and get on board.

Amplify your future!