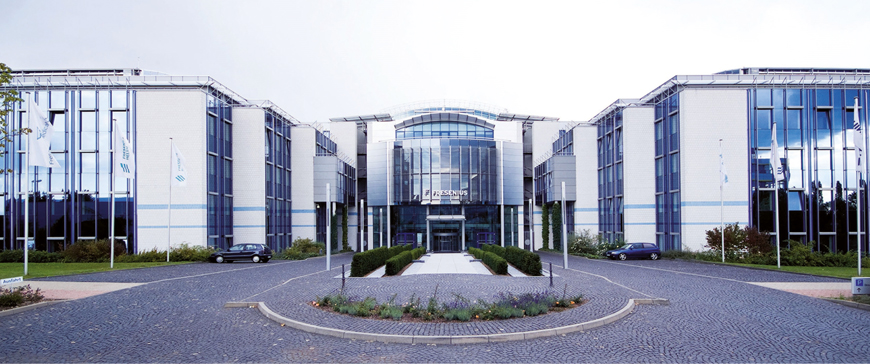 OUR COMPANY
Fresenius Medical Care is the world's leading provider of products and services for people with chronic kidney failure. Around 3.2 million patients with this disease worldwide regularly undergo dialysis treatment. Dialysis is a vital blood cleansing procedure that substitutes the function of the kidney in case of kidney failure.

We care for more than 329,000 patients in our global network of more than 3,800 dialysis clinics. At the same time, we operate 41 production sites on all continents, to provide dialysis products such as dialysis machines, dialyzers and related disposables.

Our strategy is geared toward sustainable growth. We aim to continuously improve the quality of life of patients with kidney disease by offering innovative products and treatment concepts of the highest quality.

OUR MISSION
Fresenius Medical Care achieves optimal sustainable clinical, quality and technological standards in patient care through our commitment to developing innovative products and therapies.
The unique position of Fresenius Medical Care builds on many years of professional experience and continual innovation. Accordingly, the focus of our research and development effort is to maintain the technological and clinical edge needed to create innovative products and enhanced therapies.

Our employees are united in our commitment to providing high quality products and ser-vices and bringing the optimal sustainable medical and professional practices to patient care. We are committed to honesty, integrity, respect and dignity in our working and busi-ness relations with our employees and business partners.

OUR VALUES
We have been growing rapidly for more than 20 years, in different countries and cultures as well as in different business areas, and are now more global than ever. What unites us is our common vision and purpose: To create a future worth living. For patients. Worldwide. Every day.

Building on this vision, we defined a set of Core Values:
Collaborative
Means that we know how to work together for our shared purpose and to achieve our goals as one company.
We team up: We care about sharing infor-mation and experiences as this helps us learn from our mistakes and each other. We tackle challenges together by reaching out to col-leagues both near and far. We communicate openly.

Proactive
Means that we are good at taking the initiati-ve to make an impact with our work.
We get things done: We challenge the sta-tus quo and show interest in what happens around us. We ask questions to clearly under-stand what needs to be done and take owner-ship of the results.

Reliable
Means that we are a trusted companion to our patients, partners and colleagues.
We do what we say: We live up to our own expectations, show respect and lead by exam-ple. We act with integrity and in line with our standards every day.

Excellent means that we continuously drive quality and progress to lead the business into a successful future.
We exceed expectations: We make things better today than they were yesterday. We pitch ideas on how to improve and innovate.

OUR PROFILES
We are looking for:

Validation Specialist: to manage the valida-tion activities of processes, equipment and computer systems.
R&D test Engineers: to execute test activi-ties on components and medical devices in conformity with technical and regulatory re-quirements. Quality Engineers: to supervise production processes, guaranteeing their efficiency and quality.
Process Engineers: to implements and op-timizes production processes, improving efficiency, reducing costs and ensuring com-pliance with current regulations. Project Engineers: to supports the imple-mentation of new automation projects, from the design to the purchase and installation of automatic equipment.

OUR SELECTIONS
We organize in our plant in Palazzo Pignano assessment centers with:
• individual and group tasks,
• individual motivational interviews. Skype interviews could be possible.