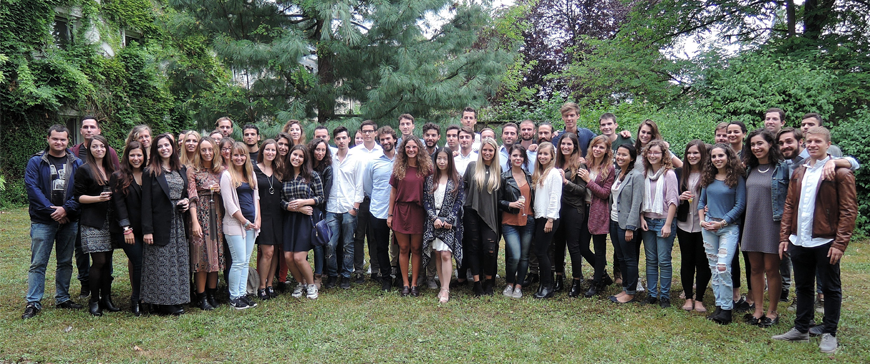 MIEX Master of Science, 2 anni - 120 ECTS
La formazione in aula si tiene in Francia e in Italia (46 ECTS):
> ICN Business School - Nancy, Francia | settembre - dicembre 2017
> UNIBO - Campus di Forlì e Bologna, Italia | gennaio - aprile 2018

CORSI OFFERTI
ICN Business School
- International Banking
- Human Resource Management &
- International Business Organization
- International Marketing & Brand
- Management
- International Business Law
- Negotiation Techniques & Economic Information Analysis

Alma Mater Studiorum Università di Bologna
- Industrial Economics
- International Economics
- International Finance
- International Business Strategy &
- International Entrepreneurship
- Logistics & Operations Management.

Seguono tre mesi di attività pratica (12 ECTS) organizzata in gruppi di ricerca Field Work Research e compilazione del report (2 ECTS).

2° anno di specializzazione Area Mercato (60 ECTS), a scelta presso:
> BRAZIL - UFRGS - Porto Alegre
> CHINA - ECUST - Shanghai
> MEXICO - LASALLE - Mexico City
> RUSSIA - MGIMO - Moscow
> SWEDEN UPPSALA UNIVERSITY - Uppsala (specializzazione accademica)

Al termine della didattica, un International Project Work individuale in azienda di almeno 6 mesi o una Master Thesis da concordare con le Università Partner. A conclusione del Master è prevista una prova finale con stesura e discussione del report che documenta l'esperienza di Project Work o di Master Thesis.

Titoli rilasciati:
Alma Mater Studiorum Università di Bo­logna - Master Universitario di I livello + ICN Business School -Master of Science in International Management + certificato o di­ploma dell'università frequentata nel secon­do anno:
- UFRGS - Mestrado Acadêmico em Administração
- ECUST - MBA (richiesti 3 anni di espe­rienza lavorativa rilevante) oppure MSc in Business Administration
- LASALLE - Maestria en Administraciòn de Negocios Internacionales
- MGIMO - Master in Management
- UPPSALA - Master of Science in Econo­mics and Business

Scadenza Bando riservisti NON EU: 1 giugno 2017
Scadenza Bando non riservisti: EU e NON EU: 14 luglio 2017

Sono previste Borse di Studio a esonero parziale delle tasse di iscrizione e Prestiti Fiduciari senza necessità di presentare garanzie reali o personali di terzi.
Vai al sito