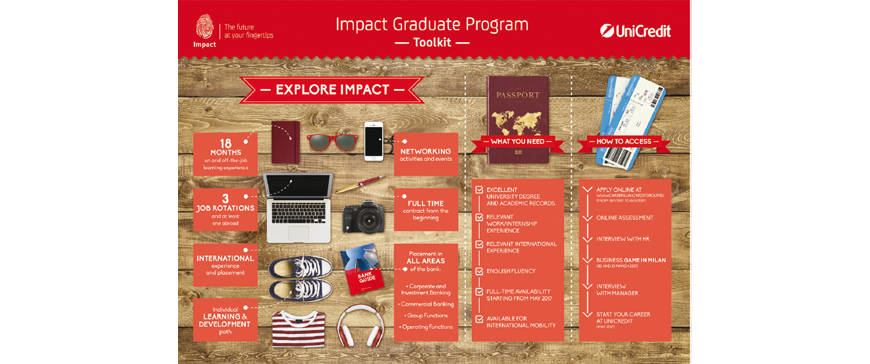 UniCredit is a leading European commercial bank with an international network spanning 17 European countries and 50 markets, with 7,500 branches [*] and more than 143,000 employees [*].

UniCredit benefits from a strong European identity, extensive international presence and broad customer base.
Its strategic position in Western and Central Eastern Europe (CEE) gives the Group one of the region's highest market shares.
In recent years, UniCredit has consolidated its position in Austria, Germany and Italy.
In these three countries, which collectively represent one of the continent's wealthiest transnational regions, the Group has strengthened its presence both through organic growth and strategic acquisitions.
We are the sum of different cultures and experiences which come from the banks and the companies that have joined our Group, starting from 1473.
From this diversity came numerous innovative ideas and programs, which have created and sustain a corporate culture like no other.
Our people, the men and women who comprise our human capital, are our greatest asset.

The diversity of UniCredit's workforce contributes to innovation by bringing together different talents, skills, experience and perspectives in our Group.
Each of us has an active role to play in fostering a culture of inclusion, and we must be aware that encouraging and considering different perspectives in the workplace is the key to achieving sustainable results.
Among the people of UniCredit, diversity and inclusion are part of our daily business.
Commonly shared set of values are the basis of our identity and starting point for all our initiatives and programs, focusing on learning, leadership development and employee engagement.
Our Group's strong European identity, extensive international presence and broad customer base enable us to offer job opportunities around the globe. The international culture of UniCredit is deeply rooted in our diverse history.
As we expanded internationally, we placed a high value on the different ideas and practices among the companies that came together to form our Group. We still do now.
That is why, throughout our operations, we have implemented a number of programs to foster cross-border and cross-cultural cooperation.
Join us and start your career at UniCredit

We search for people who share our perspective and values - people with a strong sense of initiative, who know how to take responsibility and believe in the importance of working together.
Our objective is to find, recruit and train qualified staff, enhancing their skills and experience to support them in their professional development.
IMPACT GRADUATE PROGRAM

Impact is the international Graduate Program of the Group: a development journey that will give you a unique insight into UniCredit.
Thanks to a rotational path, you will get to know various business lines and areas of the bank, acquiring skills and competencies, and creating your own network.

Who is our ideal candidate?

1. Excellent university degree and score
2. Relevant work/internship experience
3. Relevant international work/internship experience
4. Fluency in English
5. Full-time availability
6. Available for International Mobility

How does the selection process work?

1. Application online at UniCredit jobs site (from January 2017)
2. Online Assessment
3. Interview with HR
4. Business game @ UniCredit Pavilion
5. Interview with Manager


[*] Data as at June 30, 2016